Brighton Fire CPR classes are currently canceled due to COVID-19. We will post an updated schedule as soon as we are able to resume classes.
The Brighton Fire Rescue District offers quarterly CPR classes to the public.
Cost: $50 CPR fee includes your certification card upon completion of the class.
This is an American Heart Association Heartsaver CPR/AED course. Class covers adult, child, infant CPR, AED use and choking.
Where: Brighton Fire Rescue District Training Center, 5 S. Firehouse Road
To register, please call Dawn Blunt at 303-654-8043 or email cpr@brightonfire.org. Pre-payment is required by cash or check. Class size is limited.


HAVE YOUR CAR SEAT CHECKED BY A CERTIFIED SAFETY SEAT TECHNICIAN
Schedule your appointment by emailing carseats@brightonfire.org. Appointments will be available Monday - Friday and we will need at least 48 hours notice. Click here for an information sheet on this process.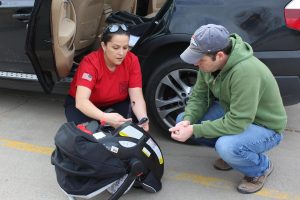 Here is what you can expect:
A certified car seat technician will check the installation of your current seat and help you correct any problems.
The technician will show you how to get your seat in properly for future installations. The technician will go over safety issues such as proper strap placement, harness clip placement, and strap tightness.
The technician will be able to answer your questions on larger seats as your child grows and how those seats work.
Click to view the Colorado Restraint Law.
**When purchasing a car seat, it is important to verify that the car seat is FMVSS 213 certified. This means the car seat meets safety standards in the United States. Many companies overseas will claim other certifications, but unless the car seat is FMVSS 213 certified, it does not meet U.S. safety standards.**
All children express a natural curiosity about fire. However, sometimes this curiosity goes too far and someone gets hurt, or property is lost.

Youth fire setting is one of the leading arson problems in the United States – and the problem is growing, even in Brighton.

All of our team members are certified by the State of Colorado. If you think your child's curiosity about fire might be excessive, or if you just have a question, contact Dawn Blunt at dblunt@brightonfire.org or 303-654-8043 for more information about this free and totally confidential program. In most cases, fire safety education is all that is needed.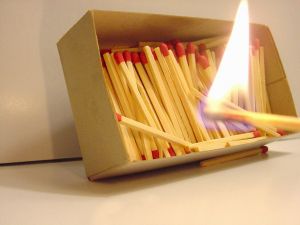 DO YOU HAVE WORKING SMOKE DETECTORS IN YOUR HOME?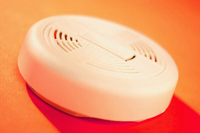 Some facts about smoke detectors:
The life of a detector is 10 years from the date it is first powered up. If your home is older than 10 years and you have never replaced your detectors, they may be out of date.
You should TEST your detectors once a month.
You should change the batteries in your smoke detectors at least once per year, unless they have sealed 10-year batteries.*
You can easily maintain your smoke detectors by replacing the batteries and using a vacuum on them every so often
*Fire departments used to promote the "Change Your Clocks, Change Your Batteries" Program, however, as technology improves, we must change our message. Most new smoke detectors have sealed 10-year batteries, meaning you will never need to replace the battery. Instead you will need to replace the entire smoke detector every 10 years. Check the back of your smoke detector for the date of manufacture to see if it needs to be replaced.

For more information email smokealarms@brightonfire.org or 303-659-4101.
It is also important to have a working carbon monoxide detector. Click here for information on why its important to have a working carbon monoxide detector in your home.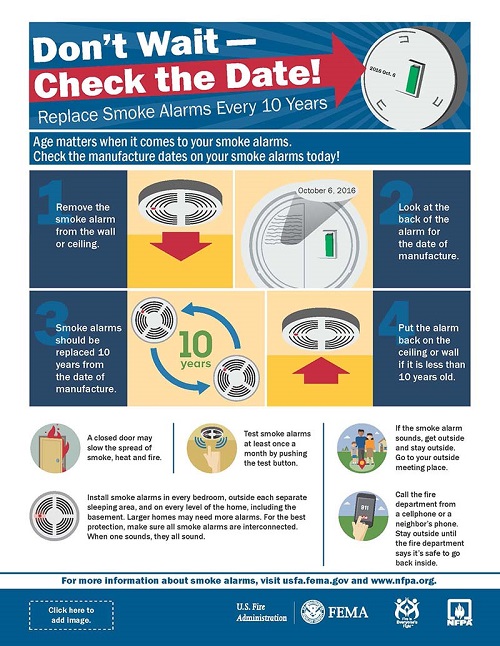 Come visit us for Story Time at the Firehouse!  We'll tour the fire station and see where firefighters live when they're at work. Then we'll have a snack while we read a story together.  You'll get to see a firefighter in all their special gear and then you'll get to see the fire trucks.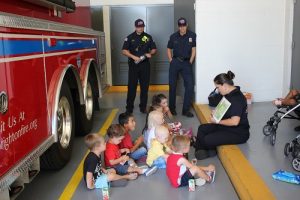 When:  Once per month (see dates)
Where:  Locations vary
Time:  10:30 am
Age requirement:  3-5 year old children
Cost:  FREE
*Pre-registration is required as space is limited
To register please contact Dawn Blunt at dblunt@brightonfire.org or 303-654-8043.
BRIGHTON FIRE RESCUE DISTRICT - STATION LOCATIONS
NO CITIZEN'S FIRE ACADEMY SCHEDULED AT THIS TIME
Get a glimpse of what life as a firefighter is like at the Brighton Fire Kids Academy!
Kids ages 8-11 are invited to attend the four day academy at Fire Station 55. 
June 12-15, 9 am to 12 pm
Kids will learn about safety, injury prevention, fires aid, bike safety while spending time with firefighters and learning what life is like at the firehouse. The cost is $55. Registration is on a first come, first serve basis and we are only taking 20 kids.
**If your child has participated in our academy in the past, they may not do it again. We don't change the curriculum year to year and it is such a popular event that we want to make sure everyone who wants to participate has the opportunity. **
You can register for this event here. 
Children must be registered by a parent or legal guardian.
We will only accept registrations until Sunday, May 21st.